News From EngagedPatrons.org
Keeping you up-to-date on what's happening at EP.
We invite your comments and suggestions!


JUNE 7, 2009
Mini-Calendar Widget Now Available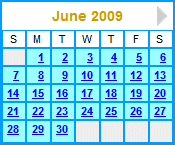 Now libraries using the events service have the option of placing a small calendar widget on their home page to alert patrons to upcoming events at the library. Dates with events scheduled are highlighted on the calendar. Clicking the date displays library events being held on that date.
Category:
Events