News From EngagedPatrons.org
Keeping you up-to-date on what's happening at EP.
We invite your comments and suggestions!


APRIL 11, 2009
Free Library Savings Calculator
Just in time for National Library Week, EngagedPatrons.org offers the Library Savings Calculator free to all public libraries. The simple web-based Calculator allows your patrons to discover how much money they save each month by using their library's services.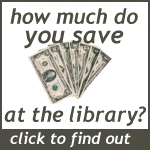 Library staff can customize the Calculator with the services their library offers -- books, DVDs, meeting rooms, etc. Patrons note how many times they use each service during a typical month and the Calculator shows them how much they would have paid out-of-pocket to purchase those services. Libraries can choose to allow patrons to report back their totals to the library and include a comment (a great way to gather praise from your users!)
Developed originally in spreadsheet form by the Massachusetts Library Association, EngagedPatrons.org enables any library to add the Calculator to their existing website by simply copying and pasting a web link into their website -- no programming required.
Category:
Library Savings Calculator
APRIL 9, 2009
Clone Events
In response to a member suggestion, you can now easily "clone" a new event listing from an existing listing. To clone an event, view the list of your current events in the Client Center. Click the new clone icon on the next to each existing listing. A new event data entry screen appears with the title and description of the event already filled in for you.

Add to Calendar
This new link, which appears with each events listing, allows your patrons to add a library event to their personal electronic calendar. Supported calendars include Microsoft Outlook, Google Calendar, Apple's iCalendar and more.

Color Coding for Events
Using the new calendar view for your events calendar? Interesting in color coding your events listings to make them easier for your patrons to browse for events of interest? Contact us for more details. View an example from Jasper County Public Library.
Category:
Events
APRIL 6, 2009
When adding a new event listing or blog posting, you can now choose from a list of images previously uploaded by your library. To speed loading times, images more than six months old have been deleted (exception: blog post images were not affected). If you need images that have been removed, let us know -- images can be retrieved from backups.
Categories:
Events
,
Blogs