News From EngagedPatrons.org
Keeping you up-to-date on what's happening at EP.
We invite your comments and suggestions!


Category: Library Savings Calculator
APRIL 11, 2009
Free Library Savings Calculator
Just in time for National Library Week, EngagedPatrons.org offers the Library Savings Calculator free to all public libraries. The simple web-based Calculator allows your patrons to discover how much money they save each month by using their library's services.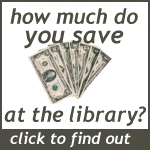 Library staff can customize the Calculator with the services their library offers -- books, DVDs, meeting rooms, etc. Patrons note how many times they use each service during a typical month and the Calculator shows them how much they would have paid out-of-pocket to purchase those services. Libraries can choose to allow patrons to report back their totals to the library and include a comment (a great way to gather praise from your users!)
Developed originally in spreadsheet form by the Massachusetts Library Association, EngagedPatrons.org enables any library to add the Calculator to their existing website by simply copying and pasting a web link into their website -- no programming required.
Category:
Library Savings Calculator